This patient and family guide is created to provide a smooth and comfortable experience for all patients and visitors at ALTY Orthopaedic Centre.
We encourage all patient to review this guide prior to admission.
What should I bring for admission?
Here's a checklist of important documents to bring along for a smooth admission process:
For all patients:
Admission Letter (Admission Letters are prepared by the Business Office department. For any enquiries or questions, we encourage you to speak to our friendly nurses)
Patient Identification (NRIC for Malaysian citizens or Passport for foreign patients)
Additional supporting documents:
Guarantee Letter for patients eligible for corporate insurance coverage
For insured patients, do present a valid insurance card upon admission
Precautionary measures
As our patients' health and safety is our priority, all patients will be required to perform the RT-PCR test prior to admission. The test will be conducted by ALTY, at no cost.
Where should I go?
Location: Level 5, registration counter
Operation hours:
Monday -Friday: 8.30am to 5.30pm
Saturday – 8.30am – 1.00pm
What should I bring during my stay?
Checklist for your hospital stay
On top of the facilities provided by ALTY during your stay with us, we encourage you to consider bringing the following for your own comfort.
Comfortable and loose clothing
A pair of anti-slip sandals or slippers
Personal toiletries
Towel
Devices for entertainment such as your tablet and headphones
Tools that could help you relax such as reading materials or your favourite music playlist
A gentle reminder: Kindly avoid keeping large sums of money, jewelry and other personal valuables during your stay with ALTY. The hospital will not be responsible in the event any items are lost or misplaced.
Meals at ALTY
Complimentary meals are provided for the patient only. Breakfast, lunch and dinner as well as an afternoon snack will be served daily to all patients. All meals served at ALTY are carefully prepared to meet your nutritional and dietary needs.
In the event you miss a meal due to ongoing tests or treatment, our nurses will be able to arrange for you to have it upon your return to the ward.
When will you be discharged?
All patients will be discharged after your doctor has certified that the patient is fit to return home. Kindly note that upon being certified fit to be discharged, it may take up to 3 hours to process your hospital bill and prescriptions.
Important Notes
All admissions will require.
Billing and payment
Upon admission, a deposit and/or letter of guarantee will be required
We accept payment in terms of cash or any major credit card.
For discharge between 2.00pm – 6.00pm, a half-day room rate will apply
For discharge after 6.00pm, a full-day room rate will apply
We would like to make it as simple as possible for you, during the discharge process, a discharge slip will be issued and once your hospital bill is ready, you will be informed by our hospital staff on the following steps to take to complete the process.
View
Types of Rooms
Daily Rate (RM)

Common Room Amenities

Electronically adjustable beds
Nurse call system
Bedside room light and TV controls
Smart TV
Complimentary Wifi
Guest couch and patient's chair
Individually controlled room air conditioning
Complimentary bathroom amenities
Minibar refrigerator
Hot water flask and water jug

Supreme Single

Coming soon

Single

RM100

Two-bedded

Coming Soon
Note:
All patients will be provided with complimentary meals (three main meals and a snack) daily.
Room rates listed exclude government tax and withholding tax
ALTY works with an extensive list of local and international insurers. We welcome patients from the following panel of insurers:
Insurance
AIA Insurance
Etiqa Insurance & Takaful
TPAs
MiCare Sdn Bhd
ASP Medical Clinic Sdn Bhd
Cigna International Corporation
DA Adept (M) Sdn Bhd (Doctor Anywhere)
Dytan Health On-line Sdn Bhd
Eximius Medical Administration Solution Sdn Bhd (e-MAS)
Health Connect Sdn Bhd
Health Metrics Sdn Bhd
International Assistance Sdn Bhd
International SOS (M) Sdn Bhd
Integrated Health Plans (M) Sdn Bhd (IHP)
Medi Express (M) Sdn Bhd
Miya Care Sdn Bhd
PMCare (M) Sdn Bhd
Pra Assist Network Sdn Bhd
Prestige International Inc
WellBe (M) Sdn Bhd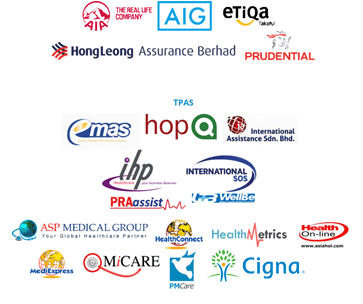 If you would like to visit a patient at ALTY Orthopaedic Hospital, you may refer to our comprehensive visitor's guide below for further information.
During your visit, we kindly ask that patients and their loved ones be mindful and respectful of other patients, visitors and staff. Your cooperation is much appreciated to help us maintain a safe environment for all by abiding to the following guidelines:
Visiting Hours
General visiting hours: 9am to 8pm
Intensive Care Unit (ICU) / & High Dependency Unit (HDU) : 12pm to 2pm & 6pm to 8pm, daily
A maximum of 2 visitors are allowed at one time. Pre-registration will be required for both visitors.
As a precautionary measure during the Covid-19 pandemic, a complimentary RTK Antigen test will be conducted by ALTY for all pre-registered visitors. The validity period of the test results will be 3 days.
Parking
Our car park is open 24 hours, daily at Level B1, B2, B3, Level 1, Level 2 and Level 3.
Parking charges are as below:
Day
Duration
Charges
Monday to Saturday

First 15 minutes
First hour or part thereof
Each subsequent hour or part thereof (7.00am-7.00pm) RM2.50 per hour
7.00pm to 7.00am

Free of charge
RM3.00
RM2.50 per hour
RM5.00 per entry

Sunday & Public Holiday
Vending Machines
Level 5
Coffee
Canned drinks
Snacks
Concierge & Valet
Located at the entrance of the lobby
Wheelchair assist service is available