THE WEIGHT – BEARING MRI
The Key to Confidence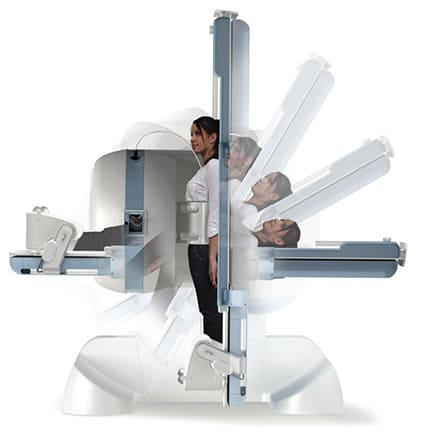 What is Weight-bearing MRI?
Our Weight-bearing MRI is a revolutionary MRI approach, which allows us to increase diagnostic accuracy and confidence. The open and tilting design is a new and innovative way of doing MRI in which the position of the patient becomes an integral part of the outcome of the examination.
How is it different from conventional MRI?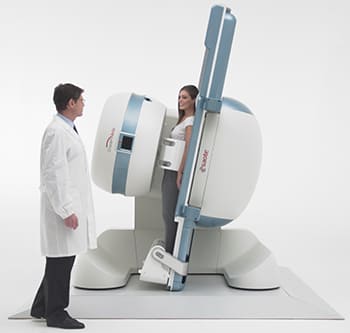 Many symptoms and pathologies occur or are emphasized when the patient is in a weight-bearing position. Conventional MRI may not demonstrate the pathology related to particular symptoms whereas the Weight-bearing MRI gives you a new point of view so you can accurately diagnose especially musculoskeletal (MSK) pathologies that are affected by the weight-bearing position.
With this, we can gain a more complete understanding of the joint under examination. The forces of gravity generate bio-mechanical changes in the human anatomy, so MR imaging in the natural standing position allows us to obtain extra details which would not normally be seen
What are the benefits?
Detects mobility issues that are otherwise not visible on conventional MRI

When the body is in a certain position, some people experience more discomfort. Body positions that ordinarily cause pain can be easily replicated with a Weight-bearing MRI. In comparison to closed, supine MRI, this allows a clearer diagnostic read.

The weight-bearing feature provides more accurate diagnosis and subsequently better surgical outcomes by capturing images of the lumbar spine that may reveal disc herniation, bulging discs, and other spine injuries that may not be revealed in a traditional MRI. Scanning in the position of pain is also helpful in tracking notable deviations in ligaments, tissues, bone orientation and nerve root contact

Allows imaging under the effects of gravity

Most cervical spinal cord injuries are caused by axial loading or force directed through the top of the head and through the spine causing rotation and/or hyperflexion. Weight-bearing MRIs have axial loading imaging capabilities. They account for the effects of gravity on the patient's spine and replicate the compression that tissues endure every day. This allows physicians to get precise images, enhance treatment decisions, and spot abnormalities that may otherwise go undetected.

Improves patient comfort and diagnostic reading

Weight-bearing MRI provides the highest quality imaging available for the L-spine. It gives the physician more insights into the true nature of the patient's condition that may have previously gone undetected. Instead of lying in an enclosed capsule, patients stand or sit between imaging devices. Positional MRI utilises a magnet top and bottom and is open on all four sides. This significantly reduces the risk of claustrophobia, anxiety, and panic attacks that are usually experienced in a closed MRI system.

Limits repeat exams

With clearer and more detailed images, radiologists and referring physicians can make more informed diagnoses. This results in faster, more comfortable scans and fewer repeat exams for patients. The future of MRI scanning Weight-bearing MRI allows superior imaging of any targeted body part. At ALTY, we specialise in MRI tests designed for better outcomes and patient experiences. The revolutionary design of our scanners permits scanning accuracy in positions where symptoms arise.
Why should I refer my patients to ALTY for Weight-bearing MRI?
It is specifically developed to perform musculoskeletal examinations. Unlike a multipurpose MRI, all aspects of the system, from coils to user interface, have been developed and optimized to perform musculoskeletal MRI examinations in the most efficient and comfortable way. The Weight-bearing MRI boasts advanced features and capabilities such as:
Impressive image quality
Open permanent magnet
Rotating gantry
Weight-Bearing: patient's position becomes an integral part of the examination's outcome
Optimized, ergonomic patient bed for easy positioning and excellent comfort during exams
Additional diagnostic capabilities: since the force of gravity generates bio-mechanical changes in anatomy, MR imaging in a natural, stand-up position allows us to attain important additional information compared to traditional MRI
As an orthopaedic-focused hospital, we adopt best-practices model with highly experienced surgeons and staff. Your patient will experience seamless scans and diagnostics.
How will my patient feel about this technology?
The excellent ergonomics and unique features of the Weight-bearing MRI bring benefits for the patient including:
High level of comfort during examination
Decreased feeling of anxiety and claustrophobia
Eliminate patient-size concern
Child-friendly experience