EOS
Low-Dose Radiation Alternative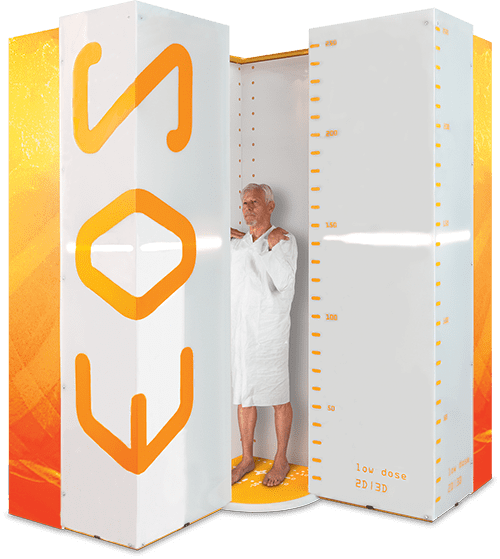 What is EOS System?
The EOS system delivers low dose stereoradiographic images of patients in functional position. The unique biplanar design and vertical scanning allows the acquisition of full body with precise 2D and 3D measurements, helping clinicians to better visualize mechanisms between the spine, hip, and knee, enhancing patient treatment across all stages of care.
The EOS system introduces a fifth modality to reduce patient radiation dose for a wide range of patients providing an exceptional image contra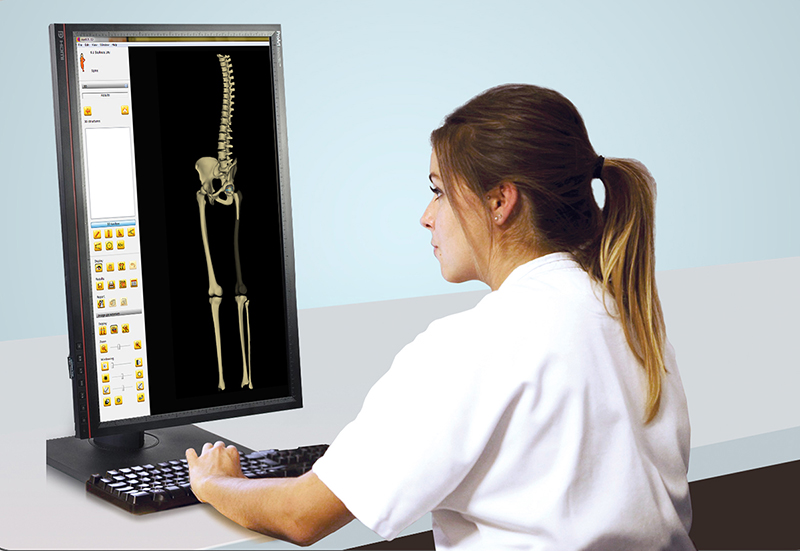 What are the benefits?
Reduced Radiation Exposure
The EOS system can reduce a patient's radiation dose by 95% when substituted for specific CT exams. EOS exams reduce radiation dose by 50% compared to DR systems and 85% compared to CR systems.
Exceptional Image Accuracy
EOS exams deliver a highly accurate view of the musculoskeletal system through full body, weight- bearing 3D images. Our system calculates precise 2D and 3D measurements without magnification or stitching bias. Improves patient comfort and diagnostic reading
Improved Diagnostics & Planning
High-accuracy imaging data from EOS allows providers to plan treatment strategies around each patient's unique 3D anatomy. Our low dose imaging system helps medical experts and their patients co-create the best path to wellness.
How does it work?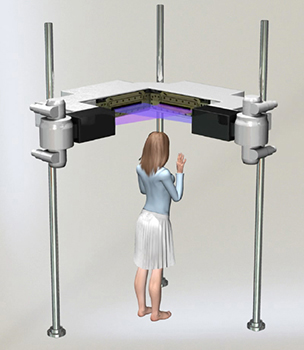 During an EOS exam, the patient stands or sits in an upright position inside a special scanning cabin. Two very narrow X-ray beams – one vertical, one horizontal – scan the entire body to create 2D and 3D images of the spine and joints. Unlike traditional X-ray imaging, where the patient may have to be repositioned to get views from different angles, these two simultaneous scans provide all the imaging necessary. Capturing frontal and lateral (side-view), full-body images take less than twenty seconds. If a full-body image is not necessary (such as for a knee condition), the EOS system can be set to scan a particular region of the patient's anatomy
Remarkable Image Quality for Impeccable Care
EOS exams are unique because they capture the front and side view of your body at the same time. These images are of consistent high quality from head to toe - with no magnification. That means accurate diagnoses, measurements and 3D models without high radiation or costly, time-consuming exams. With EOS, your medical team can offer personalized care based on your unique anatomy throughout your care journey.

Sample of EOS 2D image

Sample of EOS 3D image
What is EOS imaging used for?
3-D weight-bearing images enable physicians to get the most accurate view of your patient's spine and lower limbs in a natural standing position.
The EOS imaging machine is primarily used to assess patients with spine, hip, and leg disorders
Because of the low radiation dose, EOS imaging is a good option for children with progressive conditions such as scoliosis and other spinal deformities that require frequent imaging to monitor disease The latest advancements in imaging techniques have allowed our radiologists to introduce the use of "EOS micro-dose," which uses even less radiation for these patients.
The detailed images captured by low-dose EOS technology help us diagnosis and treat hip, knee and other lower limb deformities. Getting a complete view of musculoskeletal alignment in a weight-bearing position gives us the best understanding of these conditions.
EOS is not typically used for injuries or conditions that can be evaluated with general radiography, such as broken bones in the arms, legs, hands or feet. Traditional X- rays are still the standard of care for diagnosing these injuries
What should you expect during the exam?
Your patient will stand in the EOS booth for up to 20 seconds while the X-ray is Your child won't need a protective lead apron like in a traditional x-ray because of the extremely low radiation dose from EOS.
The exam uses two very fine X-ray beams that are capable of simultaneously capturing both frontal and lateral images of your child's EOS can image the entire spine in less than 20 seconds and can reduce procedure time to less than four minutes, as compared to multiple view spine exams that can take up to 15 to 20 minutes.
Test Results
The images from your patient's EOS imaging exam are available immediately. Because EOS creates 3-D images, there is no need to piece together multiple images. Our radiologist and orthopaedic specialists will review the results and discuss the results with patients' family and determine next steps.